The Persian Alexander:
The First Complete English Translation of the Iskandarnama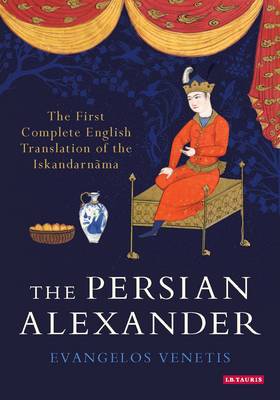 I
n the Iskandarnāma Alexander is a Persian-Muslim king, an image formed in the Persian popular mind during the eleventh-fourteenth centuries AD.
In the Persian popular mind, Alexander is the half-brother of Darius (Dārā) and the Double-horned one of the Qur'ān,10 and this dual identity is one of the most fundamental in the Iskandarnāma.11 He is the dhu'l-qarnayn (= the Double-horned one), the one who built the Gate against the invading nations of Gog and Magog. The Alexander of the Iskandarnāma embodies two natures: the divinely protected and the human. The Iskandarnāma follows the main patterns of Firdawsī's account with respect to the incidents of Alexander's life; yet the popular style of the Iskandarnāma adds many realistic and humanly features to Alexander's personality. Thus, in some cases he is an indecisive ruler with human qualities, such as love and lust.
The Pseudo-Callisthenes' account and the Iskandarnāma share many similarities, for they are romances, reflecting popular traditions. The identity of the authors and the exact date that they were originally compiled remain unknown.
The narrative shows the transformation of a western historical figure into a legendary heroic figure adapted to the Iranian national tradition and past. Thus it may be suggested that the Iskandarnāma manifests the connection between Iran and the West in pre-Modern times with influential dimensions for contemporary times. Its full translation enables English speaking readers to acknowledge the connection between pre-Modern and Modern Iran and moreover the connection between Iran and the West, as this connection is manifested in Alexander's Graeco-Iranian profile in the narrative.
The Soudavar Memorial Foundation supported the translation as well as the publication of this important work. It was published by I.B. Tauris, London, in 2017.