Iran After the Mongols
The Idea of Iran Series, Volume VIII
F
ollowing the devastating Mongol conquest of Baghdad in 1258, the domination of the Abbasids declined leading to successor polities, chiefly among them the Ilkhanate in Greater Iran, Iraq and the Caucasus. Iranian cultural identities were reinstated within the lands that make up today's Iran, including the area of greater Khorasan. The Persian language gained unprecedented currency over Arabic and new buildings and manuscripts were produced for princely patrons with aspirations to don the Iranian crown of kingship.
This new volume in "The Idea of Iran" series follows the complexities surrounding the cultural reinvention of Iran after the Mongol invasions, but the book is unique capturing not only the effects of Mongol rule but also the period following the collapse of Mongol-based Ilkhanid rule. By the mid-1330s the Ilkhanate in Iran was succeeded by alternative models of authority and local Iranian dynasties. This led to the proliferation of diverse and competing cultural, religious and political practices but so far scholarship has neglected to produce an analysis of this multifaceted history in any depth. Iran After the Mongols offers new and cutting-edge perspectives on what happened. Analysing the fourteenth century in its own right, Sussan Babaie and her fellow contributors capture the cultural complexity of an era that produced some of the most luminous masterpieces in Persian literature and the most significant new building work in Tabriz, Yazd, Herat and Shiraz. Featuring contributions by leading scholars, this is a wide-ranging treatment of an under-researched period and the volume will be essential reading for scholars of Iranian Studies and Middle Eastern History.
Editor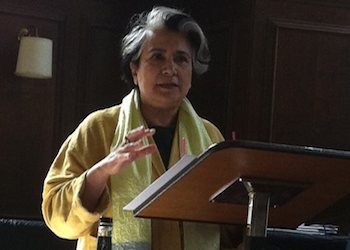 Dr Sussan Babaie is Lecturer of Persian and Islamic Art at the Courtauld Institute of Art, University of London, President-Elect of the Historians of Islamic Art Association, and serves on the Governing Council of the British Institute of Persian Studies, the Board of Directors of the Association for the Study of Persianate Societies and is a Trustee-at-Large of the American Institute of Iranian Studies. She has many years of experience teaching, both in the States at Smith College and the University of Michigan, and in Germany as a Visiting Professor at the Institut für Kunstgeschichte, Ludwig Maximilian University, in Munich. Her research and teaching concern questions of imperialism and artistic patronage in Persianate West, Central and South Asia where high culture derived from the literary corpus of the Persian language.